Trakehner, born in 1997
Grey, 16.3 hh
Owner: Clara Baunack
Frozen semen: 800 € incl. 7% VAT for 3 doses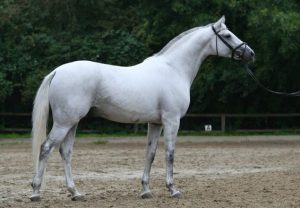 Licensed by the ZSAA
Approved by the Trakehner Association and the Oldenburg Association,
all other associations on request.
After his excellent 30-day test in Vechta in 2001, where he was awarded a 9.5 for free jumping, BBM attracted attention every year with numerous successes in the jumping course or under the dressage saddle. In jumping winning up to L, he was then further promoted, especially in dressage, and was able to achieve numerous wins and placements up to S ** under his permanent rider Clara Baunack. The highlight of her career so far, after winning the Bremen championships in 2006 (juniors) and 2008 (young riders), is the Bremen vice-championship title in 2011 and the subsequent appointment to the state squad of the Bremen Equestrian Association for 2012!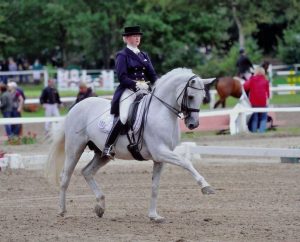 Sire Sir Shostakovich xx from Ireland was one of the sportiest thoroughbred sires of the post-war period, whose offspring are particularly prone to jumping, as are the descendants of dam's sire Bajar ShA, probably the most influential Arab in modern sport horse breeding.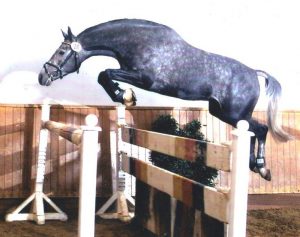 The dam line of BBM, the line of Bergfriede by Schattenriss, is one of the most important Trakehner performance families thanks to the sires Gabriel and Totilas, from which numerous successful S-horses in all disciplines have already emerged.
Progeny
BBM's children are very much influenced by their sire: noble, long-legged and compact with excellent hindquarters activity and correct feet and legs. The conformation breeding value estimation of the Trakehner Verband consistently shows BBM as a clear positive sire. In addition, like the sire himself, the offspring have a first-class temperament, are easy to ride and great at jumping!
With Virginian Sky, who was successful in event and dressage tests under the California sun, and Invincible Sir, approved by the Trakehner Association, as well as  B.B.King and Fabeldichter, BBM already has four well-respected licensed sons.
Successful athletes
Finnie's First Love and the junior/young rider Tabea Neugebauer attracts a lot of attention in the show jumping course, the Oldenburg gelding Burghley and Ina Tapken qualified for the BuCha in Warendorf in 2011 and are now (2015) successful in the S-class in jumping and arrived in the great eventing sport. The Oldenburg mare Be my Fellow is meanwhile winning in jumping up to M level with Stephan Dubsky and is currently placed in S level. The BBM daughter Virginian Snow (full sister of Virginian Sky) won the Trakehner race in Mannheim after several high placements in half-blood races in 2014, 2015 and 2016 (with a lead of up to 30 lengths!). She is the first Trakehner horse to do this hattrick.
FN breeding value estimation
With Briliant 2, Burghley and Be My Fellow (jumping), Virginian Sky (dressage, USA) and Invincible Sir (dressage), BBM has successful offspring in S level in both show jumping and dressage. The current breeding value estimate of the FN shows him above all as a clear positive sire with regard to the production of successful competition horses in the field of show jumping.
Best Before Midnight performance inheritance
(Evaluation of the FN's 2018 Breeding Yearbook)
Best Before Midnight increases its offspring life winnings in 2018 to € 17,315, –
of which in jumping: € 10,631,
in dressage: € 2,136,
in eventing: € 2,027
The main earner with 5,283 € was Burghley under Ina Tapken with several S-placements in jumping.
In addition, with Virginian Sky (USA), Invincible Sir (Thailand), Royal Beach (England), Light of Silvermoon (Switzerland), Briliant (Italy) and many more, some offspring are successful abroad, some in the advanced class, which is in the FN- as is well known, statistics are not recorded.
A total of 61 offspring were registered with the FN as competition horses until 2018; this corresponds to about half of his entire progeny. More young talents are in the start boxes …
The stallion himself has under his breeder Dr. Eva Baunack and her daughter Clara achieved a total lifetime winnings of € 4,253 in dressage up to level S ** (personal contribution).
Best Before Midnight with the rare Anglo-Arabic outcross bloodline of Sir Shostakovich xx -Bajar ShA – Gabriel (T) – Totilas (T) is still very vital and potent at the age of 22 and is set up this year at the EU insemination station Söderhof of the Lehnhardt family in Walsrode.
Secure these performance genes for your modern sport horse breeding!
Family tree Best Before Midnight