By Hofrat out of Kastanie XII by Arogno – Ginster
Trakehner, born in 2005
Bay, 16.3 hh
Breeder: Barbara Jörn, Uslar
Owner: Maria Lehnhardt
Stud fee: 800 € incl. VAT, fresh semen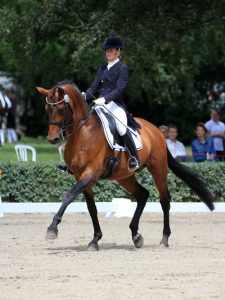 Licensed by the Trakehner Association (2007)
Approved by the Mecklenburg Association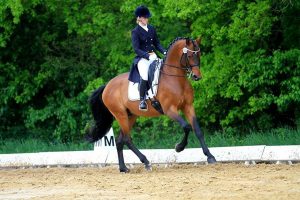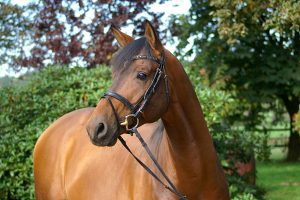 His captivating charm, his elegance, his noble manners, his strong nerves and the high quality in all three basic gaits made this stallion one of the most striking sire models of the licensing in Neumünster 2007.
Karl Lagerfeld passed a convincing performance test with high rideability scores. In competition, too, he always returned home as a winner or high-placed from tests for young dressage horses. His success in the L level dressage horse tests secured him the qualification for the World Championships for young dressage horses in Verden.
At the age of 4, 5 and 6 he was able to qualify for the Bundeschampionat of German riding horses and was placed M several times. Karl Lagerfeld received training from national trainer Holger Schmezer and the renowned dressage instructor Jonny Hilberath as part of the Trakehner sport horse sponsorship program.
His first crop of foals was clearly shaped by him and his valuable pedigree: noble, particularly noble, in body harmony with important riding horse points. The impressively balanced movements, which were characterized by tact, suppleness and acceleration, put his high-quality offspring at the center of all foal shows. Karl Lagerfeld also provided the top auctioneer Feiner Karl on the occasion of the Trakehner foal auction in 2009 and several aspirants for the stallion market in Neumünster.
Abstammung Karl Lagerfeld: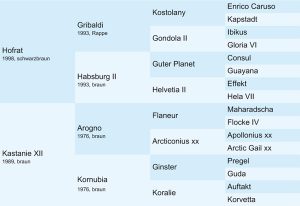 Father E.H. Hofrat and grandfather E.H. Gribaldi, including the father of Totilas, are more relevant than ever. Hofrat is successful in difficult dressage tests up to Grand Prix and has also made a name for himself in Hanoverian breeding, for example as the sire of the Verden licensing winner Hotline.
The mother E.St. Kastanie XII guarantees a breeding approved pedigree constellation and is one of the outstanding broodmare personalities of the entire breed. In 2002 she was class winner of the Lower Saxony/Hanover show. Her son Konradi is one of the most successful Trakehner dressage horses up to and including Grand Prix today. Konradi's fullsister Karissima was the annual champion mare and is the mother of the premium stallion Kasimir, successful up to Inter I. His two sisters, the top mares Kreta and Kosima, are successful at M level. Karissima and Kastanie were also the chmpion family in Schleswig-Holstein in 2008.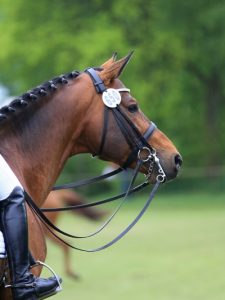 Karl Lagerfeld mit Maria Lehnhardt (Fotos: Stephan Bischoff)
---
April 4, 2016: Here is a nice training picture of Karl Lagerfeld with Maria: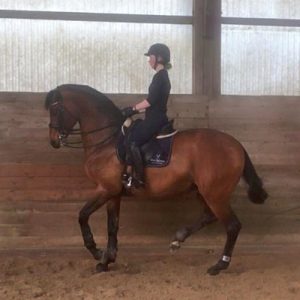 ---
Karl Lagerfeld's daughter, the Trakehner premium mare Crabamboli M bred by the Moormann family, won the riding horse test in Lüchow on July 15, 2014 with the score 8.3 under her permanent rider Sonja Giermann!
(Photos: Laura-Christin Vogt)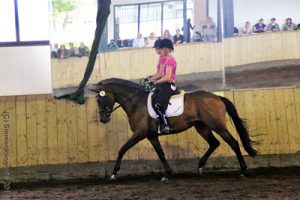 Crabambuli M here at the guest rider test in the mare performance test. She got a 9.5! These marks underline once again the important rideability inheritance of Karl Lagerfeld!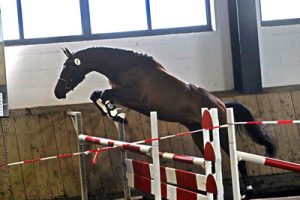 In free jumping too, Crabambuli M was above average.
Bella Beretta by Karl Lagerfeld x King Arthur x Caprimond. The breeder is Mrs. Chantal Glißmann.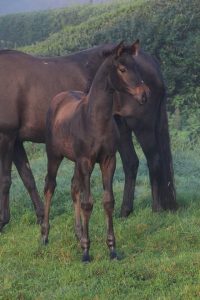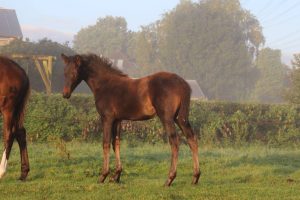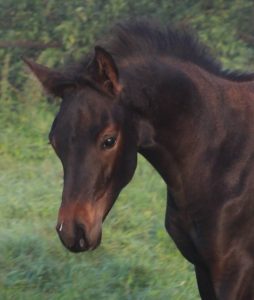 New pictures of Bella Beretta by Karl Lagerfeld x King Arthur x Caprimond, bred by Chantal Glißmann, now owned by Isabella Jung from Austria