by Duke of Hearts xx out of Ambra  by Vivus x King of Macedon xx
born in 2015
Dark bay, 16.2 hh
Breeder: Katja Brune
Owner: Evelyn Viehof
Stud fee:
Frozen semen: 850 € incl. 7% VAT for 3 doses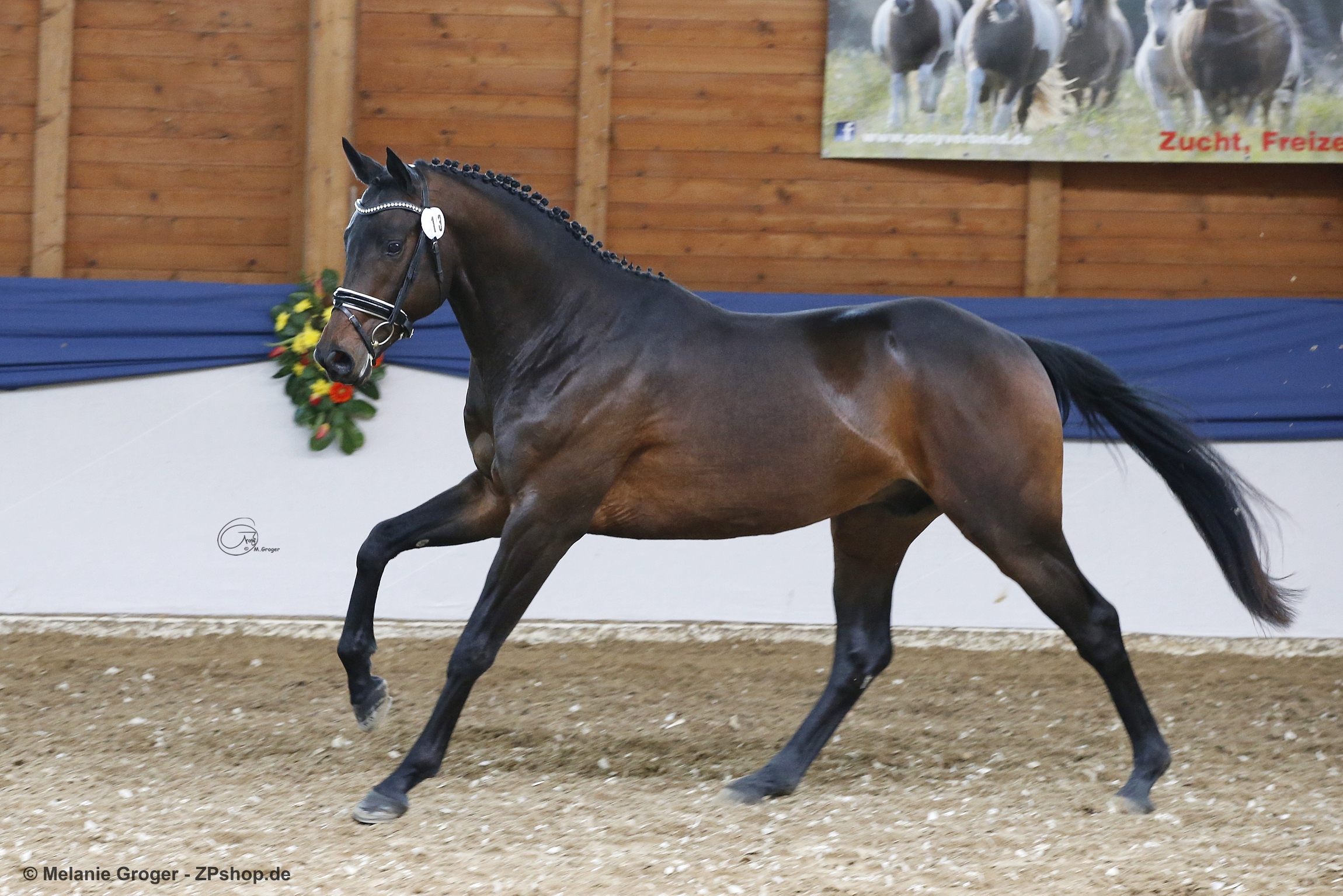 Licensed by ZSAA  -Champion –
Approved by the Trakehner, Hannoverian, Rhineland associations and by the association of Poland
100-day-test in Poland – Champion –
Under the most demanding sporting aspects, but especially with regard to his exquisite genetics, which are rarely represented, Anthony takes an exposed position in the focus of the sport horse breeder.
 His sire Duke of Hearts xx has long been considered an institution in the international scene for breeding of event horses. The mother Ambra embodies many of the ideals of his breeder Katja Brune in terms of her genetics, because her sire Vivus is one of the most effective protagonists of the great, up to CCI*** victorious Habicht and took on a role model function with regard to his toughness and tireless willingness to perform. Grandmother Aurinia xx represents her home stud, the legendary main stud Graditz in an elegant representation, her line is also rooted in a well-established dynasty of this famous stud of international thoroughbred breeding. Aurinia xx is a half sister of the eventing horse Compensation xx, who achieved victories and placements at CIC** level under Anna Schulze Zurmussen, but also a sister of Abendsonne, who won the Ib award in the class of half-blood and thoroughbred mares at the Trakehner Federal Mare Show Neustadt/Dosse claimed a much admired performance for itself.
The medium level dressage horses Caprese and Rosenstolz as well as the medium level show jumping horses Anthea and Austin xx also belong to this branch of the line. In the first generations, King of Macedon xx, Antrieb xx and Malmoe xx were combined with great, rarely represented sire personalities of the English thoroughbred breeding, whose names also have a sonorous reputation in sport horse breeding. In addition, there is a close line breeding on the Schlenderhan derby winner and legendary sire Birkhahn xx.
Anthony was licensed as a German noble blood horse for the ZSAA in spring 2018 and celebrated there as champion stallion. In September 2019 he passed the 100-day stallion performance test in Bielice, Poland, as the test winner. The audience at the Trakehner Stallion Market will also fondly remember him as the reserve winner of the Free Jumping Cup 2018. In his first competition season, Anthony was able to prove his talents.
"Appealing three-quarter-blood horse with recognizable type characteristics from his thoroughbred pedigree. Large frame with appropriate body parts, equipped with enough leg and a lot of meaning. With regard to his saddle presentation, also over jumps, he very clearly confirms his closeness to the eventing sport, which also confirms the pedigree. "(Lars Gehrmann, 2019).
Text: Erhard Schulte