by Safir x out of Fantaisy x by Cafettot x
born in France in 1994
liver chestnut, 16.3 hh
Breeder: Patrick Davezac, Haras du Pecos
Stud fee:
Frozen semen: 700 € incl. 7% VAT for 3 doses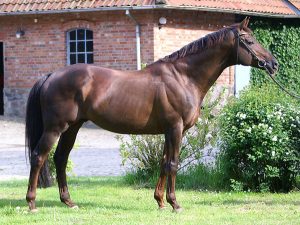 licensed in Cluny/Frankreich for Anglo Arabian, Selle Francais and Cheval de Selle (2000)
approved by ZfSP e.V., ZSAA e.V., Oldenburg association (2007) and by Mecklenburg association (2010)
Trakehner mares receive a 100 € discount on the stud fee for Trakehner mares by single breeding permit
Approved by Holstein association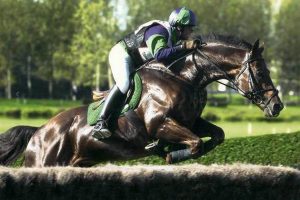 After Bulrush xx we succeeded in producing a stallion of perfect beauty combined with exceptional performance. Before Fandsy started eventing, he successfully competed in flat races for two years. As a young horse, Fandsy won the saddle licensing in France. His first licensed son (One One Framoni) is currently competing successfully at the French "Bundeschampionat level". His two-year-old daughter Rhéa Framoni is currently the show jumping champion of France.
The outstanding rideability characteristics of Fandsy are particularly striking. He is concentrated in training and impresseswith his stable nerves. In training, he shows no stallion manners. He is a successful mixture of nobility, aliber and calm.
We are very happy to be able to offer him to our customers.
Abstammung Fandsy x: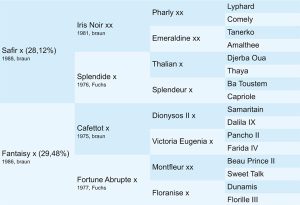 Own performance record:
3 and 4 years: 11 races; 1 win and 6 places in flat races, prize money: 85,000 FF
Participant in the World Championship for young eventing horses CCI ** Le Lion d'Angers (2001)
Successful in international eventing competitions up to CIC *** World Cup for 5 years
The only French stallion with a performance index in all disciplines:
Race:        IAA 119 (1998)
Dressage: IDR 101 (2000)
Jumping:   ISO 110 (2000)
Versatility: ICC 140 (2004)
Elite Complet label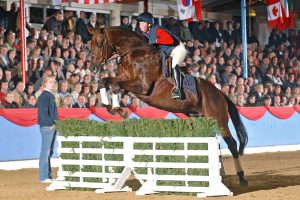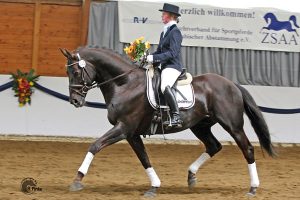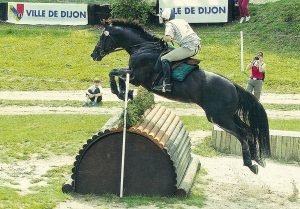 Fandsy mit Dr. Frank Lehnhardt bei der täglichen Arbeit